MAR 10-Yr T-NOTES
The market's reaction to the nonfarm payroll report on Fri confirmed a bearish divergence in very short-term momentum that left it's 125.105 high in its wake as one of developing importance.  But since the market remained above 03-Jan's 123.185 corrective low and even an area of former resistance-turned-support around the 124-1/4-area, we believe it's premature to conclude Fri's 125.105 high as the end of a 5-wave Elliott sequence as labeled in the 240-min chart below.
We believe this to be the case:  Fri's 125.105 high ENDED a 5-wave rally from 15-Dec's 122.145 low.  This is admittedly premature.  However, 125.11 serves as a tight but objective risk parameter from which to navigate such an interim setback.  Reinforcing proof of this call will come on resumed weakness below yesterday's 124.075 low, which we're now considering our new short-term risk parameter raised from 03-Jan's 123.185 low.  A break below 124.07 will confirm that low as an INITIAL counter-trend low and the new intermediate-term trend as down.  This would also, obviously, reinforce Fri's 125.105 high as the end of the recent recovery attempt.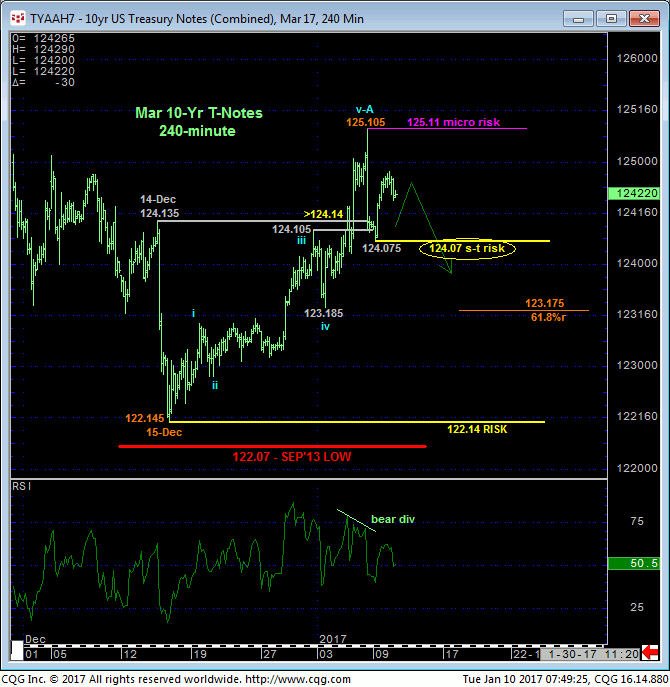 This said, what's also notable about the recovery from 15-Dec's 122.145 low in the 240-min chart above is its trendy, impulsive, 5-wave nature.  As Elliott "theory" submits that corrections cannot be 5-wave affairs, this warns that the recovery from 15-Dec's 122.145 low is just the INITIAL A-Wave of a broader (A-B-C) consolidative sequence that has further to go and could span weeks or even months as indicated in the daily close-only chart below.
The suspected bear market correction "thus far" puts Sep-Dec's (suspected 3rd-Wave) collapse into perspective as this recovery has only been able to retrace a Fibonacci minimum 23.6% of Sep-Dec's 131.01 – 122.265 decline.  Granted, the recovery attempt thus far cannot be considered as over, but it's nonetheless interesting that it has thus far stalled at the exact 23.6% retrace of Sep-Dec's collapse.  Left unaltered by a recovery above Fri's 125.105 high, such a minimal retrace would seem to underscore the overall weakness and vulnerability of this market and what we continue to believe is just the tip of a new secular bear market in Treasuries that could span a generation.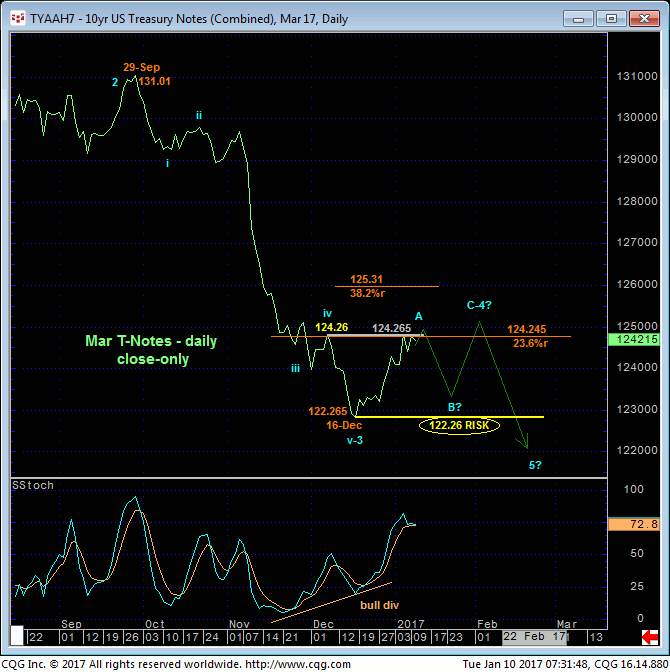 As discussed in 30-Dec's Technical Blog, the markets proximity to 2013's 122.24-to-122.07-area historic support shown in the weekly chart below was not unlikely to prompt some profit-taking and/or selling-deferral that would result in an interim corrective rebound.  But given the magnitude and trendy, impulsive nature of the collapse from Jul'16's 134.075 high, we believe it is highly likely that this rebound attempt is merely a correction within a new secular bear market that will eventually produce new lows below- and possibly well below- 122.00.
These issues considered, traders are advised to return to a cautious bearish policy from current 124.22-area prices with strength above 125.11 required to negate this call and warrant its cover.  A failure below 124.07 will reinforce this call and expose at least a steeper (B-Wave) correction of the 122.14 – 125.10 rally to the 123-1/2-area and possibly a resumption of the major bear.  A multi-week or even multi-month consolidation between 125.10 and 122-1/2 should not come as a surprise before the eventual resumption of the major downtrend that has preceded it.
DEC17 EURODOLLARS
The technical construct and expectations for the Dec17 Eurodollar contract are virtually identical to those detailed above for 10-yr T-Notes.  The magnitude and trendy, impulsive nature of the decline from 06Jul16's 99.235 high shown in the daily chart below is a major event that warns the new long-term trend is down.  Against this backdrop recovery attempts are advised to first be approached as corrective selling opportunities.
We have identified 14-Dec's 98.57 smaller-degree corrective high and 05-Dec's 98.65 larger-degree corrective high as our short- and longer-term risk parameters the market is required to recoup to threaten or negate this bearish call.  Former 98.55-area support from late-Nov/early-Dec is considered new near-term resistance expected to contain bear market correction recovery attempts.
On a smaller scale detailed in the 240-min chart below, the trend is up with former 98.445-area resistance considered new micro support and 28-Dec's 98.40 minor corrective low considered a micro risk parameter the market is required to break to confirm our suspicions that the recovery from 15-Dec's 98.36 low is indeed a 3-wave and thus corrective affair consistent with a new long-term bear market.  Scalpers are OK to maintain a cautious bullish stance as long as the market remains above at least 03-Jan's 98.43 low and certainly 28-ec's 98.40 low.
Once again from a very long-term perspective the confirmed bearish divergence in WEEKLY momentum arguably defines Jul's 99.16 high weekly close as the END of a massive 5-wave Elliott sequence from Sep'13's 96.23 low and exposes a peak/reversal environment that could be major in scope.  In sum, a bearish policy remains advised with strength above 98.57 required for shorter-term traders to move to the sidelines and further strength above 98.65 for longer-term players to take similar defensive action.  In lieu of such proof of strength we continue to believe that the recovery attempt from 15-Dec's 98.36 low to be a correction within the new secular bear market that is expected to be contained by the 98.55-area resistance ahead of a resumption of this major bear.