Tighten Interim Bullish T-Note Risk to 124.11
Posted on 1/17/2017 7:18 AM by Dave Toth
The suspected bear market correction from 15-Dec's 122.145 low continued this morning with a poke above 06- and 12-Jan's 125.105 highs, leaving Fri's 124.11 low in its wake as the latest smaller-degree corrective low the market needs to sustain gains above to maintain a more immediate bullish count.  It's failure to do so would break the 4-week uptrend and expose at least a correction lower and possibly a resumption of what we believe is a new secular bear market in T-note prices.  Per such 124.11 becomes our new short-term risk parameter from which non-bearish decisions like short-covers and cautious bullish punts can now be objectively rebased and managed.
The recovery has really been laboring over the past week-and-a-half and both the daily close-only chart of the contract above and daily log close-only chart of 10-yr yields below show that the market has only retraced a Fibonacci minimum 23.6% of the price decline from 29-Sep's 131.01 high and rate rise from 27-Sep's 1.555% low.  We believe this price action reinforces our long-term bearish count that contends the past month's price recovery is part of a correction/consolidation ahead of an eventual resumption of the major bear trend.  Nonetheless, while 16-Dec's 122.265 low close remains intact as support and our long-term risk parameter, further lateral consolidation is expected.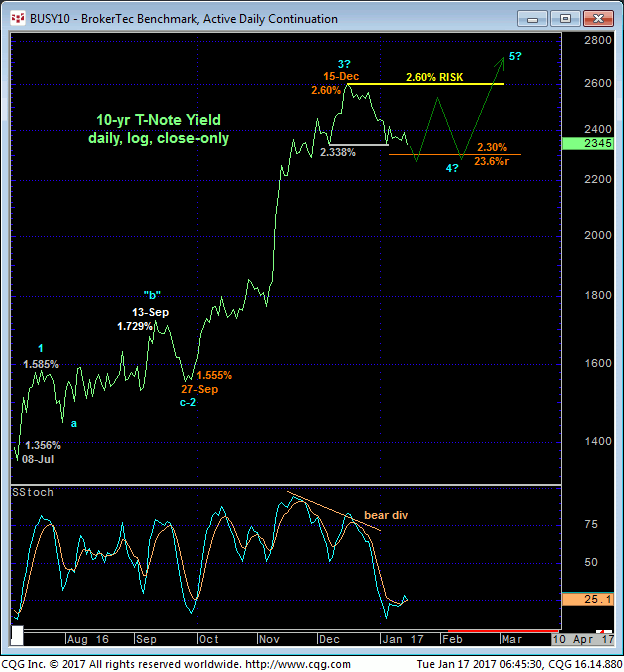 The market's obvious rejection of the mid-122-handle area that provided major support in 4Q13 clearly acknowledges this area as one of technical relevance that may not be broken easily and could support weeks or even months of lateral consolidation.  Given the magnitude and impulsive nature of the past six months' collapse however, we ultimately expect this key 122-handle to yield to the major downtrend that, again, we believe could span years or even a generation ahead.
In sum and while the intermediate-term uptrend is, in fact, up until the market fails below 124.11, we are suspicious "up here" that a bullish policy is a poor risk/reward bet.  Per such a neutral/sideline policy is advised for the time being.  We will be watchful for a sub-124.11 failure to stem the past month's rally and then try to navigate a subsequent rebound attempt as a preferred condition from which to resurrect a bearish policy.  For traders looking to buck this recent recovery for bear-market-correction suspicions similar to ours, we suggest doing so with a cautious option strategy with an embedded risk parameter.
---