EURUSD
Against the backdrop of the secular bear market in the Euro, we have been approaching this month's recovery attempt as a corrective selling opportunity.  As recently discussed however, the intermediate-term trend remains clearly up with a failure below our short-term risk parameter defined by 19-Jan's 1.0589 corrective low required to break this uptrend and reinforce our longer-term bearish count.
From a very short-term perspective however, yesterday's micro failure below Wed's 1.0711 corrective low defines Tue's 1.0775 high as one of developing importance and a very tight but objective risk parameter from which any non-bullish decisions like long-covers and cautious bearish punts can now be based and managed.  This micro failure stems from the mid-1.07-handle that, for longer-term reasons we'll discuss below, is expected to cap this month's intermediate-term corrective recovery and re-expose the secular bear trend.  While admittedly early and without more concrete evidence of a turn lower, we believe this development presents a pure risk/reward selling opportunity where the risk to 1.0775 is negligible relative to an expected outcome that could produce losses to new secular lows below 03-Jan's 1.034 low.
While this month's recovery is not unimpressive, the weekly log scale chart below shows the market still below and absolute ton of price action from the past two years that is expected to weigh on it as new resistance.  From this longer-term perspective there is no question that this month's recovery should first be approached as a correction ahead of the secular bear's resumption to new lows below 1.0340.
In terms of trying to objectively speculate on where this suspected (4th-Wave) correction should peter out then, the daily close-only chart above shows 05-Dec's 1.0764 corrective high and the neighboring (1.0756) 38.2% retrace of Aug-Dec's (suspected 3rd-Wave) decline from 1.1354 to 1.0386 as an "area of interest" to cap/resist the recovery attempt.  Thus far and as a result of yesterday's admitted micro mo failure, Mon's 1.0765 high stands as the top to this recovery, exactly in the area of our suspected resistance.  If there's an acute time and place for this corrective recovery to end, we believe it is here and now.
These issues considered, a bearish policy and exposure remain advised for long-term players with a close above 1.0765 required to defer or threaten this call enough to warrant a move to the sidelines.  Indeed, market sentiment is historically bearish enough to warn of a MAJOR base/reversal environment under the right longer-term momentum-failure circumstances.  We believe a major low and reversal in the Euro will take place sometime in 2017, but the market has yet to provide even the short-term proof of such.  Shorter-term traders with tighter risk profile who have been advised to step aside from bearish exposure due to the intermediate-term corrective recovery are advised to re-establish bearish exposure at-the-market (1.0680) with a recovery above 1.0775 required to negate this call and warrant its cover.  Subsequent weakness below 1.0589 will confirm this call and expose further and possibly steep losses thereafter.
USD INDEX
The technical construct and expectations for the USD Index are identical, only inverted, to those detailed above in the Euro with yesterday's bullish divergence in micro momentum above 100.43 defining yesterday's 99.79 low as one of developing importance and a more reliable low and risk parameter from which non-bearish decisions like short-covers and cautious bullish punts can be objectively based and managed.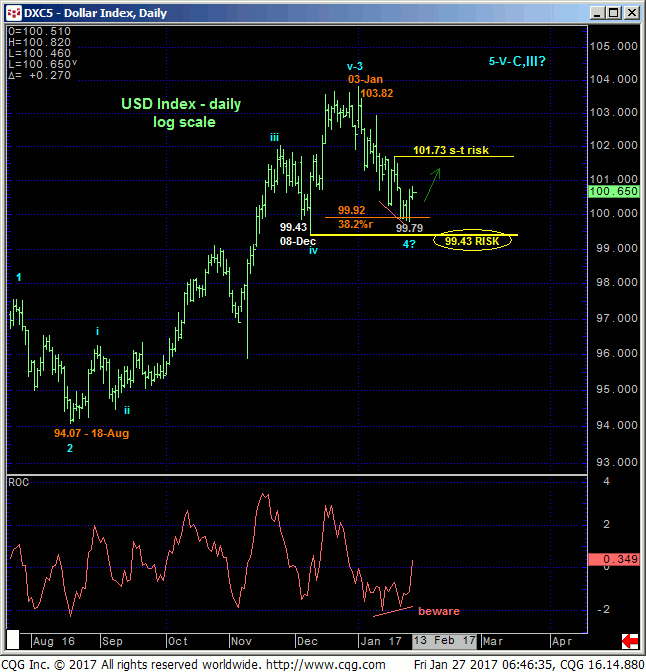 Subsequent strength above 19-Jan's 101.73 corrective high and short-term risk parameter remains required to break this month's intermediate-term slide and reinforce our long-term bullish suspicions that the decline from 03-Jan's 103.82 high is a (4th-Wave) correction within the secular bull to at least one more round of highs above 103.82.  The weekly chart below shows this month's pullback to a HUGE area of former resistance around the 100.00-area that is advised to first be approached as a key new support candidate expected to hold ahead of a resumption of the secular uptrend.  A break below 08-Dec's 99.43 larger-degree corrective low and key risk parameter remains minimally required to threaten our bullish count and expose a peak/reversal environment that could be absolutely major in scope, including the END of the secular bull from Mar 20008's 70.70 low.  We will expound on what we believe will be a major top too the secular bull in the USD Index sometime this year in future blogs.