Andres Manuel Lopez Obrador leads his opponents in most polls

Business and finance elites are discounting his possible win
With five months to go in Mexico's presidential campaign, the leftist firebrand Andres Manuel Lopez Obrador has mounted a sizable lead in most polls. And yet, the country's business and financial elites seem unimpressed.
Eighty-five percent of those C-suite executives surveyed by Banco Santander last month said Lopez Obrador will be defeated in July's vote just as he was back in 2006 and 2012. This confidence explains why Mexican markets have held up so well as Lopez Obrador — who has made "neoliberalism" enemy No.1 in his speeches for years and pledged to roll back efforts to open up the state-run oil industry — built his lead over a pair of more conventional candidates. The peso is the best currency in all of emerging markets this year and stocks have outperformed most peers.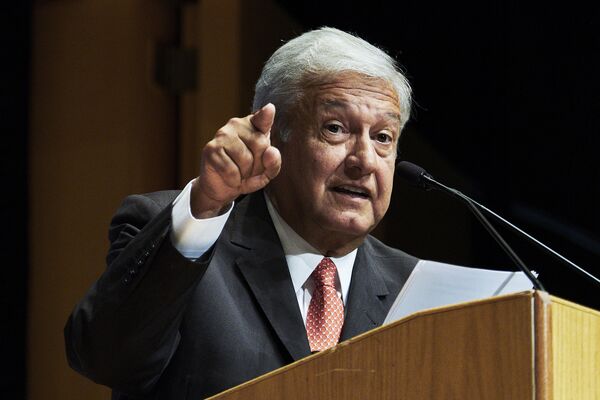 But in the age of one political shock after another missed by the professional class — Donald Trump's election, the Brexit vote, Poland's increasingly nationalist stance — this sort of complacency seems dangerous to some. And just because Amlo, as Lopez Obrador is called, came up short before doesn't necessarily mean he will again this time.
Alejandro Cuadrado, a strategist at Banco Bilbao Vizcaya Argentaria, cautions the peso could weaken 7 percent from current levels if Amlo is leading in the days before the vote. Exotix, a research firm that specializes in the riskiest assets, says an election win could prompt a 15 percent selloff in the benchmark stock index and boost local bond yields by 4 percentage points.
"I don't think investors are prepared," Rafael Elias, the head of Latin America credit research at Exotix, said in an interview. "You have to start looking at the polls seriously."
Mexico Might Elect Its Own Populist to Take On Trump: QuickTake
The most recent voter surveys show Amlo has a significant advantage. He's garnering 40 percent support, ahead of PAN-led party alliance candidate Ricardo Anaya with 31 percent and former Finance Minister Jose Antonio Meade of the ruling PRI party with 20 percent, according to Bloomberg's Poll Tracker.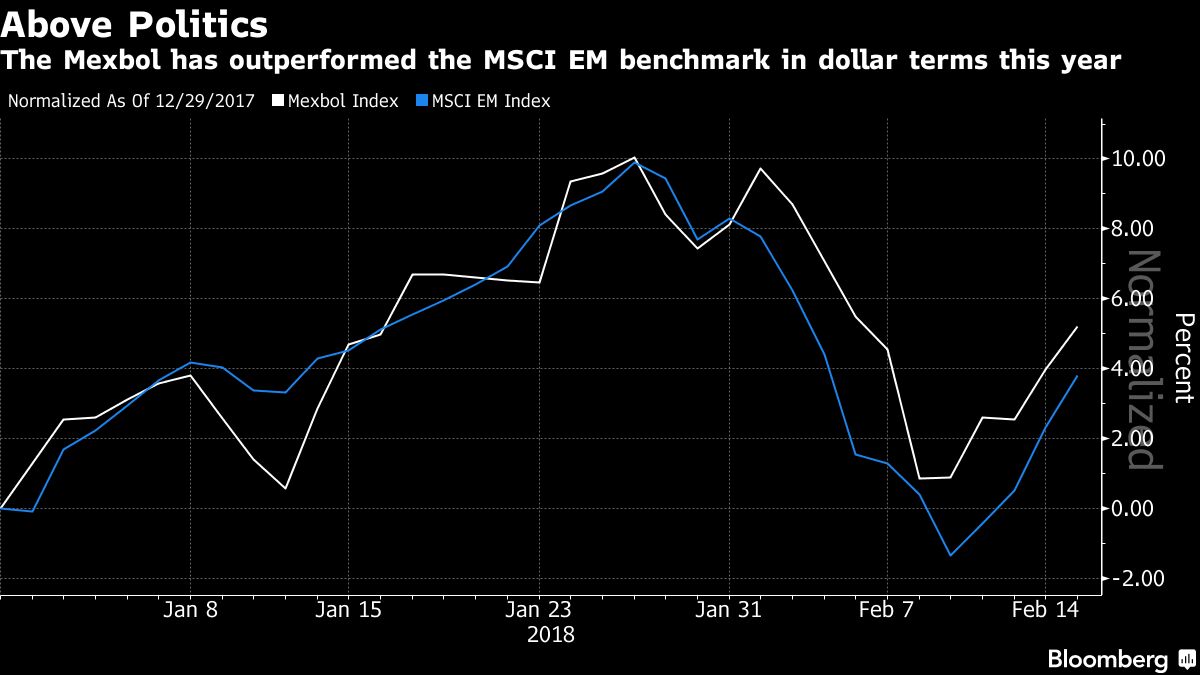 The rise of Amlo, a former Mexico City mayor, comes amid a resurgence of discontent against the PRI and President Enrique Pena Nieto over corruption allegations. At the same time, Trump's threats to dismantle the North American Free Trade Agreement and curtail immigration are stirring national pride in Mexico, a dynamic that favors Amlo amid his pledges to reset the relationship with the U.S.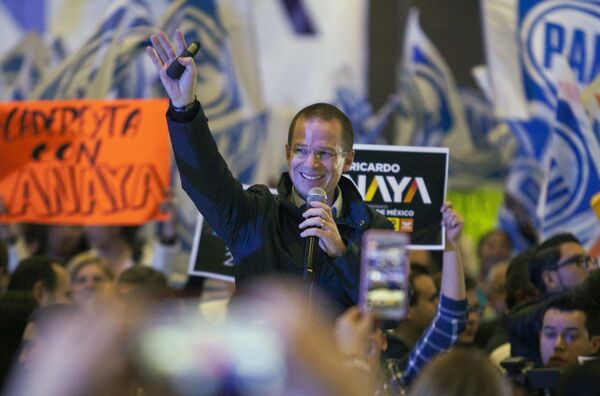 Of course, there are still months to go before the election and official campaigning can't even begin until parties officially nominate their candidates by the end of March. The candidates are also slated for three debates beginning April 22. And Amlo — who already enjoys wide name recognition — may see his prospects dwindle as voters become more familiar with his rivals.
It's also possible that even if Amlo were to win, his economic agenda won't be all that radical. He has been meeting with business leaders and with executives at banks including Citigroup Inc. and JPMorgan Chase & Co. in an effort to reassure them.
"We're not against businessmen," Lopez Obrador told a crowd at Mexico's National Auditorium in November. "We're against corrupt politicians."
And for all the potential for an Amlo presidency to throw Mexican markets into disarray, it's worth remembering that the apocalyptic predictions made about Trump's impact on markets before his election and the dire warnings about Brexit's potential to wreak havoc never quite came to pass. Mexico's peso slipped 0.1 percent Friday to 18.5209 per dollar as of 8:45 a.m. in New York, leaving it up 6.2 percent this year.
Amlo has come close to winning the presidency before. He led polls ahead of the 2006 vote, leading the peso to tumble, and ended up losing by less than 1 percentage point to Felipe Calderon. In 2012, Pena Nieto was a consistent frontrunner. This time, some investors have seen Amlo's poll performance, in which he has consistently led or at worst tied Anaya, as a sign of his durability.
A minority of investors are looking at the numbers, and bracing for the fallout. Options on the Mexican peso show an uptick in concern around the time of elections.
An Amlo victory isn't "the baseline, but we do believe that the chances are high enough that it's something we're preparing for," said Rob Turner, a senior portfolio manager at Invesco who's shying away from most corporate and sovereign debt from Mexico. "It's more uncertainty that we're preparing for because there are very few concrete details."
Luis Maizel, a senior managing director and co-founder of LM Capital Group in San Diego, says he's limiting his investment these days to Mexican companies that get most of their revenue abroad such as Grupo Bimbo SAB, Mexichem SAB and Gruma SAB.
"If the election was held today, Lopez Obrador would win," Maizel said. "I think that people should be very careful, and listening to what Amlo says."
— With assistance by Eric Martin