MAR 10-Yr T-NOTES
The market's recovery yesterday above Mon's 121.005 high and our short-term risk parameter discussed in Wed's Technical Blog defines 15-Feb's 120.01 low as one of developing importance and possibly the end of a broader 5-wave Elliott sequence down from 08-Nov's 125.06 high we'll discuss below.  The 240-min chart below shows yesterday's resumption of the prior couple weeks' recovery attempt leaves Tue's 120.08 low in its wake as the latest smaller-degree corrective low and new short-term risk parameter the market is now required to relapse below to arrest the recovery, render it another 3-wave and thus corrective affair and re-expose the secular bear trend.  In lieu of such sub-120.08 weakness we anticipate further lateral-to-higher prices as part of a larger-degree correction within the new secular bear trend.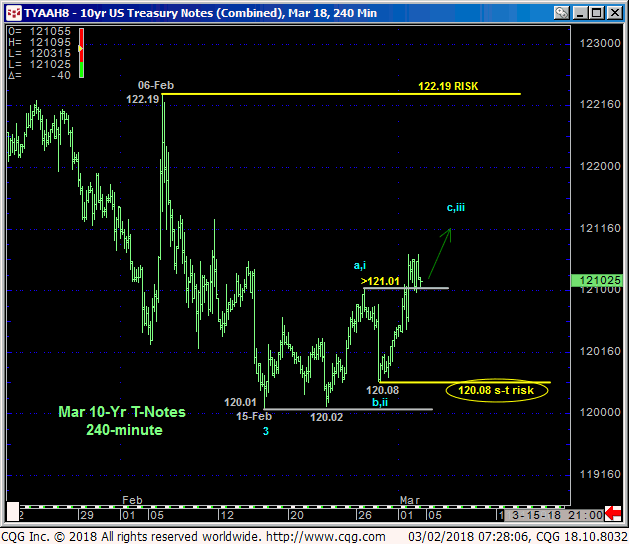 The daily chart below shows a wave count that considers 15-Feb's 120.01 low as the end of a 5-wave sequence down from 08-Nov's 125.065 high.  If correct, this count warns of a corrective, consolidative rebound that could cover a relatively big area either in terms of price and/or time.  IF a steeper correction to, say, the (122.0) 38.2% retrace of this decline lies ahead, we would suspect it to unfold in a quicker manner.  Alternatively, this correction may be more shallow but span a wider period of time.  At this juncture there's really no way to tell.  All we CAN say is that Tue's 120.08 serves as THE tightest risk parameter the market needs to sustain gains above to leave either of these options as preferred.  A failure below 120.08 will likely either mean the correction is over ahead of the bear's resumption or that whatever correction is left to be had will unfold in a more shallow, time-consuming manner.
In sum and unless one is of a very long-term nature incurring bear risk to 06-Feb's next larger-degree corrective high at 122.19, traders have been advised to move to a neutral/sideline position in order to circumvent the heights unknown and/or whipsaw risk of a suspected correction within the secular bear.  A failure below 120.08 is required to mitigate this call and re-expose the secular downtrend.