Posted on 8/28/2017 8:22 AM by Dave Toth
EURUSD
The market's sharp recovery Fri above both 11-Aug's 1.1847 high and obviously 02-Aug's 1.1911 high renders the sell-off attempt from that 1.1911 high to 17-Aug's 1.1662 low a 3-wave and thus corrective affair consistent with our long-term bullish count.  On an even tighter scale this resumed rally leaves Fri's 1.1773 low in its wake as the latest smaller-degree corrective low and new short-term risk parameter the market is now minimally required to fail below to threaten a bullish count.  Former 1.1890-to-1.1830-range resistance is considered new near-term support.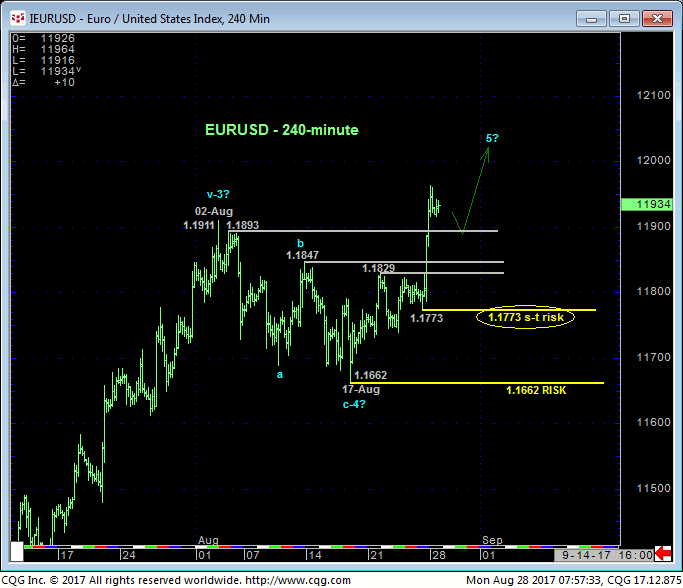 Fri's resumption of this year's major uptrend nullifies the bearish divergence in momentum discussed in 14-Aug's Technical Webcastthat exposed an interim correction.  As a direct result of Fri's resumption of this year's major uptrend, 17-Aug's 1.1662 low now serves as the larger-degree corrective low and key risk parameter this market is now required to fail below to confirm a bearish divergence in momentum of a scale sufficient to threaten this year's major uptrend and expose a correction or reversal that could be extensive in terms of both price and time.  In lieu of weakness below at least 1.1773 and especially below 1.1662, the trend is up on all scales and should not surprise by its continuance or acceleration.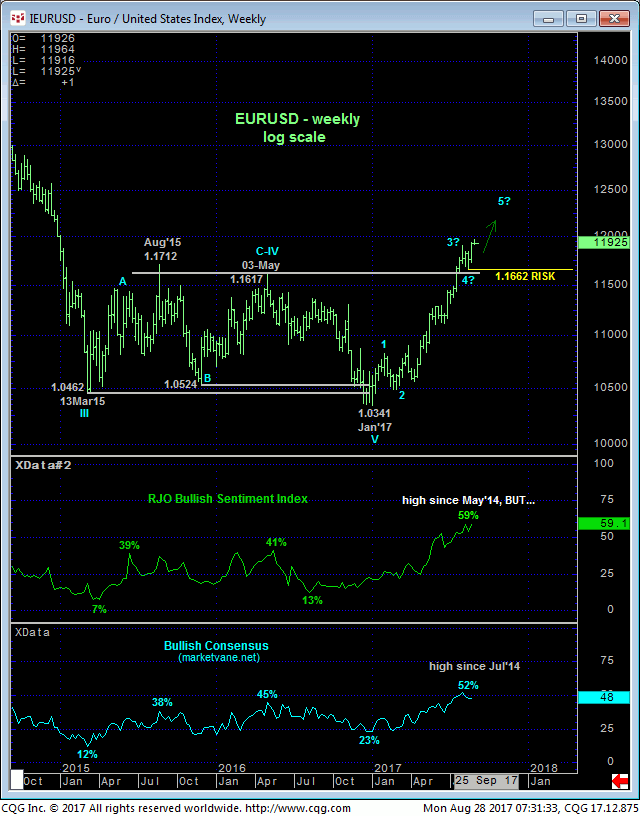 These bull risk parameters at 1.1773 and 1.1662 may prove vital given the market's engagement of the general 1.2000-"area" that provided mammoth support from Jun 2010 until Jan'15's meltdown below it that left this area as a huge new resistance candidate.  While we have believed since 30Jan17's Technical Blog that a new secular bull market in the Euro has begun, if there's a place for the initial counter-trend rally to run into trouble, we also believe this 1.20-handle-area is it.  And IF this area is going to stem the bull for a while, it's got to PROVE non-strength with a simple momentum failure below levels like 1.1773 (tight) and 1.1662.  Until and unless such weakness is shown, further and possibly accelerated gains should not surprise.
These issues considered, a bullish policy and exposure remain advised for long-term players with a failure below 1.1662 required to threaten this call enough to warrant a move to the sidelines.  Shorter-term traders whipsawed out of bullish exposure on 14-Aug's bearish divergence in momentum are advised to return to a bullish policy and approach setback attempts to suspected near-term support between 1.1890 and 1.1850 as corrective buying opportunities with a failure below 1.1773 required to negate this call and warrant its cover.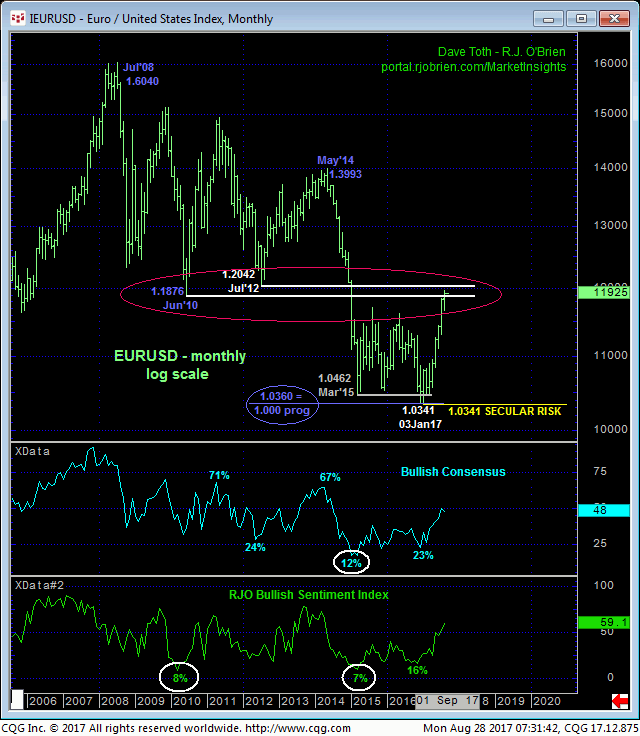 USD INDEX
The technical construct and expectations for the USD Index are identical to those detailed above for the Euro, only inverted, with Fri's 93.44 high and 16-Aug's 94.15 high considered this market's latest smaller- and larger-degree corrective highs and our new short- and longer-term risk parameters to a resumed bearish policy.  Former 93.00-area support is considered new near-term resistance ahead of further and possibly accelerated losses.